17.01.2017
Ommelift type 2750 RXBDJ facility maintenance at the new Sanford Arena, University of South Dakota.
Omme Lift's dealer in USA, Tracked Lifts Inc. supplied the Omme Crawler Lift 2750 RXJ Hybrid for University of South Dakota.
The great up and over reach of the crawler lift, with the impressive 15.5 m of horizontal reach capability, allowed the operators easy access under the roof. 
The 2750 RXBDJ, has a maximum working height of 27.5 m / ft. 90' with a 200 kg basket load. The 15.5 m outreach and a zero tail swing articulating riser give 10.5 m up-and-over free clearance. The long movable jib provides final adjustment. The transit length is 7.5 m and standard width is 1.5 m but can be reduced to 1.1 m.
Manual levelling stabilisers allows the machine to be used on uneven levels up to 40%. Gradeability is 35%, equivalent to 19.3° and combined with the non-skid crawler belts the platform can be used on most terrains. These features enable the machine to negotiate park and woodland areas and town centers where kerbs or other obstacles must be overcome.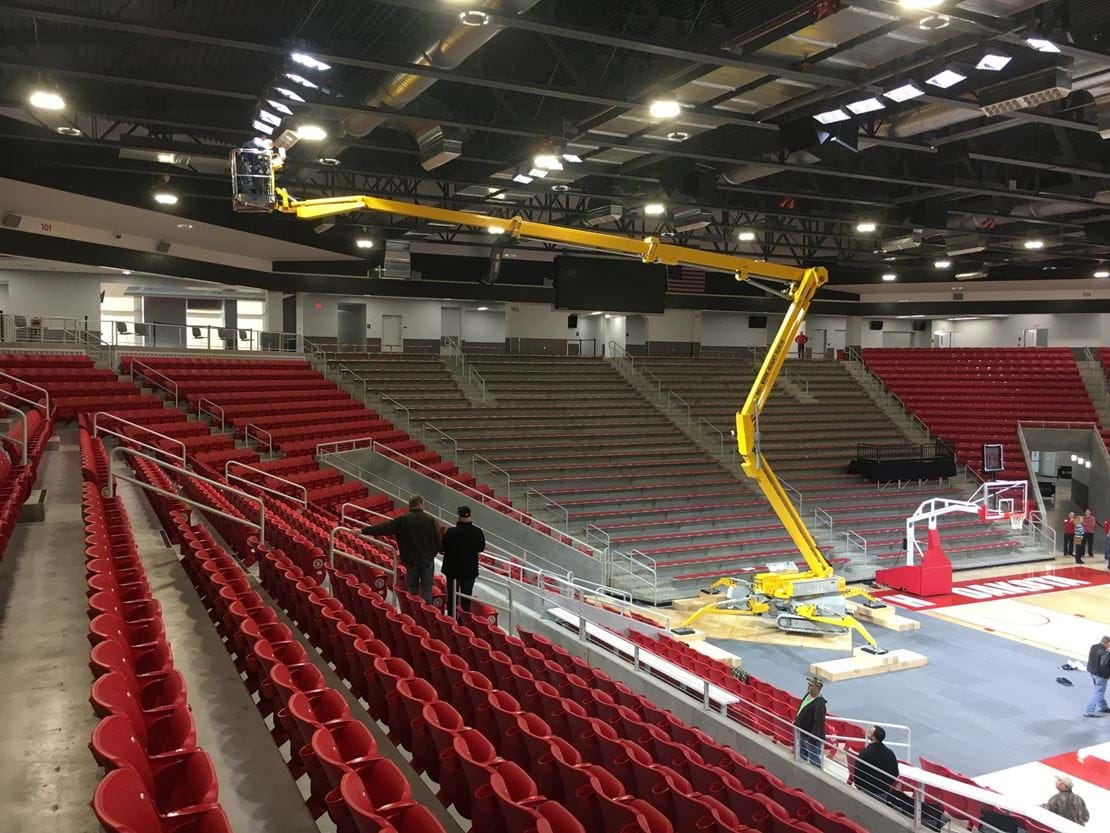 The crawler chassis is designed to be both strong and disperse the machine's weight widely. This is important when operating on more sensitive surfaces such as quarry tiles, flagged foot paths, wooden floorings, or in applications where the platform is craned into storey buildings where high reach is required but low weight necessary.
The Sanford Coyote Sports Center opened ahead of the 2016-17 athletic season. The facility hosts the men's and women's basketball teams in addition to the volleyball team. 118,428 square feet facility provide a competition, practice and training facility for both basketball and volleyball athletic programs. The main competition court is surrounded by 6,000 spectator seats.