22.02.2015
Omme Lift Enters Third Decade of Hybrid Production
Omme Lift A/S pioneered hybrid drive trailer lifts and enters its third decade of hybrid lift production in 2015.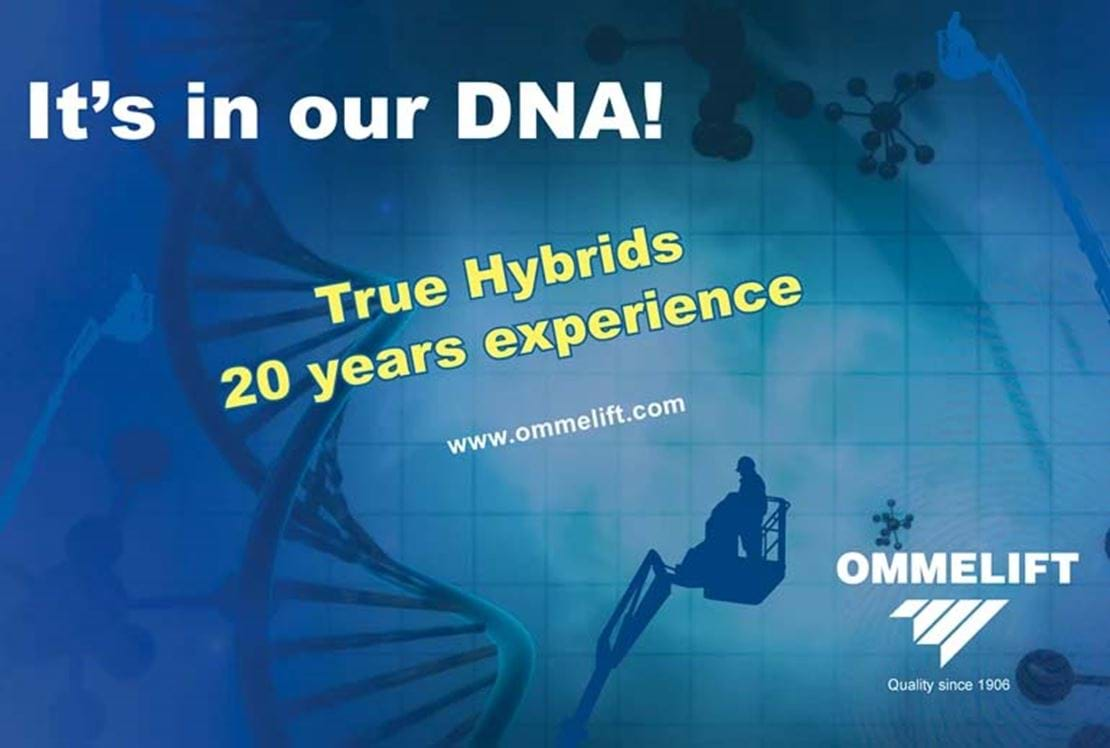 Omme Lift Enters Third Decade of Hybrid Production
Omme Lift A/S pioneered hybrid drive trailer lifts and enters its third decade of hybrid lift production in 2015.
The Danish company, which exports its products worldwide, has been manufacturing aerial lifts since 1980 and manufactured its first hybrid machine in 1994. The Ommelift 2500EBD (25 m / ft 82') was a trailer-mounted boom offering a combination of diesel and battery power. One of its first customers was Gerhard Piesker of AVL Arbeitsbühnenvermietung / System Lift, based in the Berlin / Brandenburg area of Germany.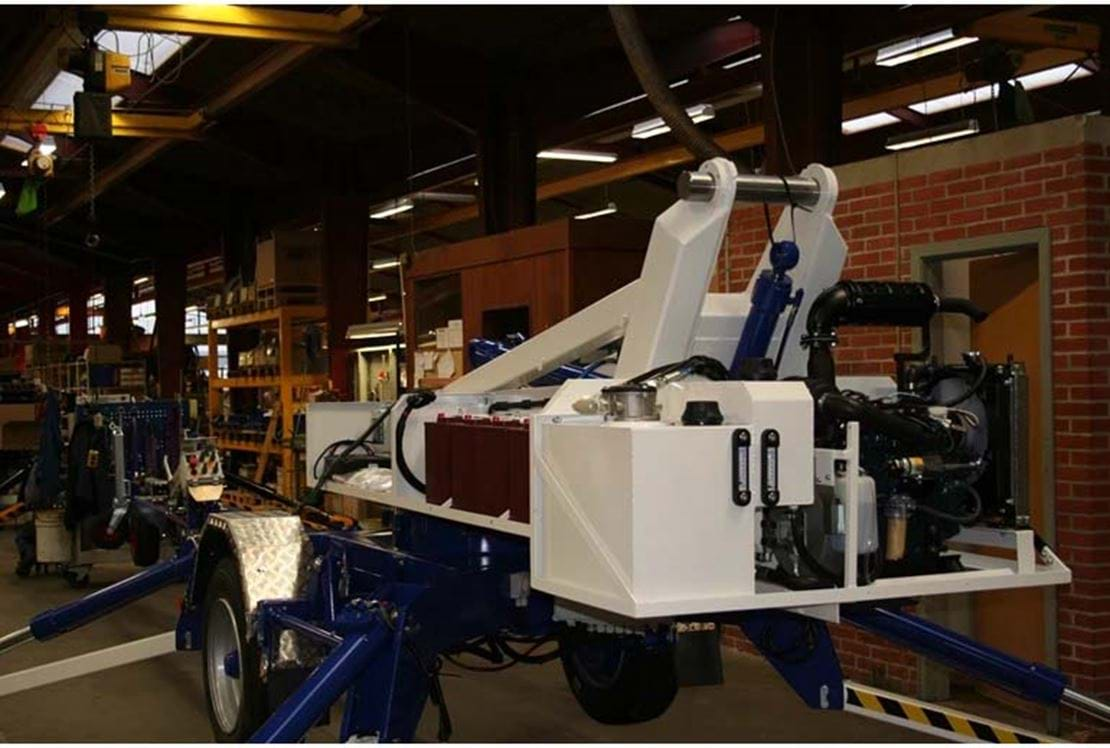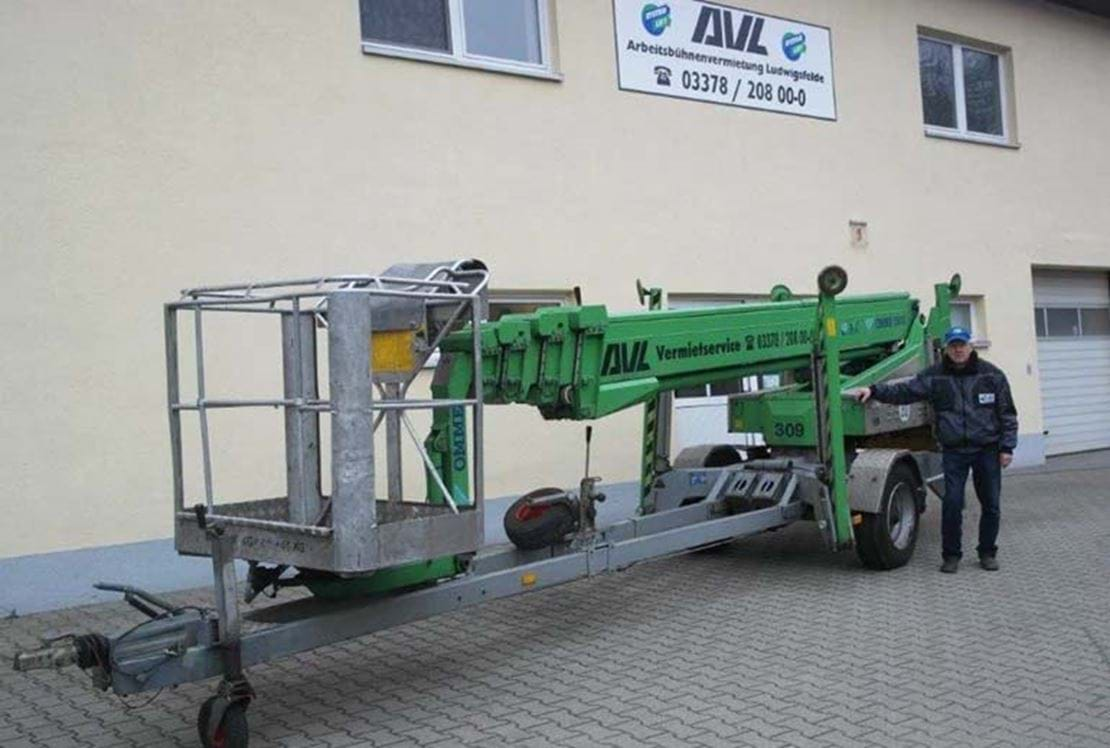 "Omme Lift has always been an integral part of our business since the 1990s," said "Gerhard. "One of the main advantages of Omme trailer lifts was the powerful battery drive, which enabled independent and environmentally friendly operation. This was especially appreciated in residential areas.
However, in certain applications such as tree work, the battery did not have enough capacity to work for a whole day during periods of low temperature. Omme Lift solved this problem in 1994 by combining battery and engine power, which today is known as hybrid technology."
Omme Lift produced its first bi-energy trailer in 1989 - the 20m (ft 65') Omme 20000Z – which was available with an optional Honda engine for self-drive. Back then it was common to push trailer lifts into position by hand. Its first true hybrid came with either an American Kohler petrol engine or diesel engine from Ruggerine. Today Omme Lift fits Kubota engines across its product range.
Harry Lorentsen, Managing Director of Omme Lift, said: "There was a clear market need for a true hybrid machine that combined the benefits of a diesel engine and a battery power pack. We wanted to move beyond the standard bi-energy configuration by properly integrating the two power trains. We produced the first model, the Ommelift 2500EBD in 1994 and have continued to develop our true hybrid philosophy ever since, for both our trailer lifts and our tracked booms."
The latest hybrid machine is the Ommelift 4200 RBDJ crawler-mounted boom. Providing 42 m (ft 137') working height it is the company's largest lift to date. It joins a growing range that now includes 12 trailer lifts and 10 crawler-mounted booms.
Omme Lift's diesel/battery drive train ensures that its hybrid access platforms are equally suited to work outdoors and indoors. The diesel engine acts like a generator, automatically recharging the battery pack whenever it is switched on. Furthermore, using battery power rather than plugging into a mains electricity supply completely eliminates the well-known 'voltage drop' issue. When operating on single phase AC even relatively short extension cords create a reduction in voltage, which means the machine does not receive sufficient power to operate effectively. Battery power provides a clean and quiet self-drive function and faster lift operation – and all without an inconvenient and potentially hazardous cable connection to the mains.
An intelligent charging system means that the operator can plug into the mains to recharge the batteries while using the machine. It trickle charges when dormant, switching to full charge when the lift is in use and back to trickle charge again as soon as the operator's hands leave the controls.
Gerhard added: "Ommelifts remain a solid and profitable part of our rental fleet. They are flexible, especially in Berlin, where they are a perfect substitute to the popular 3.5t truck which cannot be used on pavements or in courtyards and similar. In the rural areas of Germany, Omme Lifts are appreciated by many contractors such as tree workers for their flexibility, high performance and ease of use."