22.02.2014
New OMME CRAWLER LIFT
Omme Lift Launches New 42m Hybrid Crawler-Mounted Boom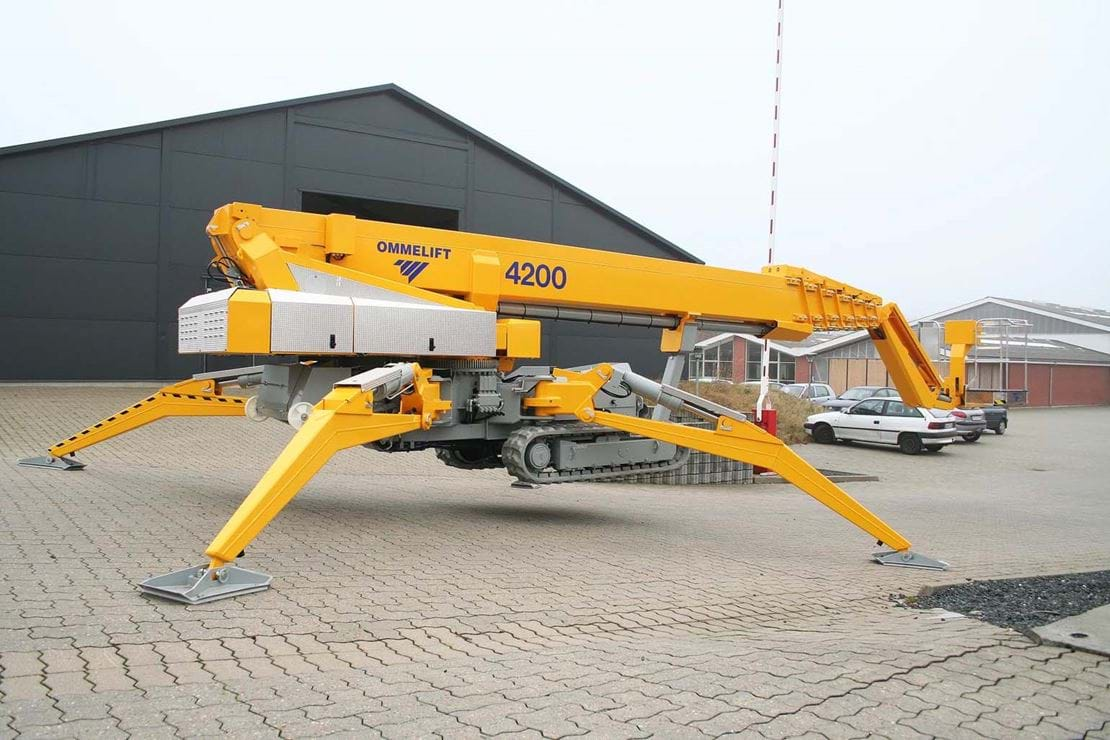 Introduced to fulfil growing global customer demand, the 4200 RBDJ is Omme Lift's largest crawler-mounted boom to date. The telescopic boom comprised of seven sections provides a stable maximum working height of 42m and an outreach of up to 15.2m, with a 130° articulating jib for precision positioning. The boom can be raised and extended at the same time, helping to reach the required height in the shortest possible time. Auto-levelling outrigger deployment and retraction from basket is a standard feature.
The new lift is a lightweight 42m boom offering a true battery-diesel hybrid drive train. The battery power provides self-drive and fast lift operation without inconvenient and potentially hazardous connection to the mains. The 4200 RBDJ is engineered in response to customer demand for this type of unit, which delivers the working height of a big boom or truck-mount, combined with a much lighter weight, better all-terrain performance and much more compact dimensions.
The diesel-battery hybrid drive train also ensures the 4200 RBDJ is equally suited to work in outdoor and indoor environments.The 400Ah battery pack - which is automatically recharged whenever the diesel engine is deployed - completely eliminates the well-known 'voltage drop' issue, which can significantly impede the operation of a mains-powered machine, even when using a relatively short power cable. Moreover, power cuts or local voltage fluctuations do not have an influence on a battery lift performance.
A rapid two-gear crawler undercarriage ensures that the lift quickly reaches the working area. The crawler chassis is designed to traverse hilly or uneven terrain. It also widely disperses the machine's ground pressure when travelling on delicate surfaces like pavements, lawns, or indoor marble flooring. Weighing just 6,805kg and offering the ability to set up on inclines of up to 27%, the Omme Lift 4200 RBDJ can work comfortably outdoors in many areas unsuitable for conventional big booms.
Compact dimensions enable access into confined spaces, with a stowed height of less than 2.00m and a length of 8.90m – plus the basket is easily detachable, delivering an even more compact travel length of 8.30m. The width of 1.75m, which provides stable travelling on slopes, can be retracted hydraulically to only 1.35m for narrow paths, corridors and doorways.
Omme Lift officially launches the 4200 RBDJ at the APEX 2014 exhibition in Amsterdam this June and expects to ship the first units from its factory in Denmark later this summer.