22.03.2010
OMME 3700 RJ TELESCOPIC CRAWLER LIFT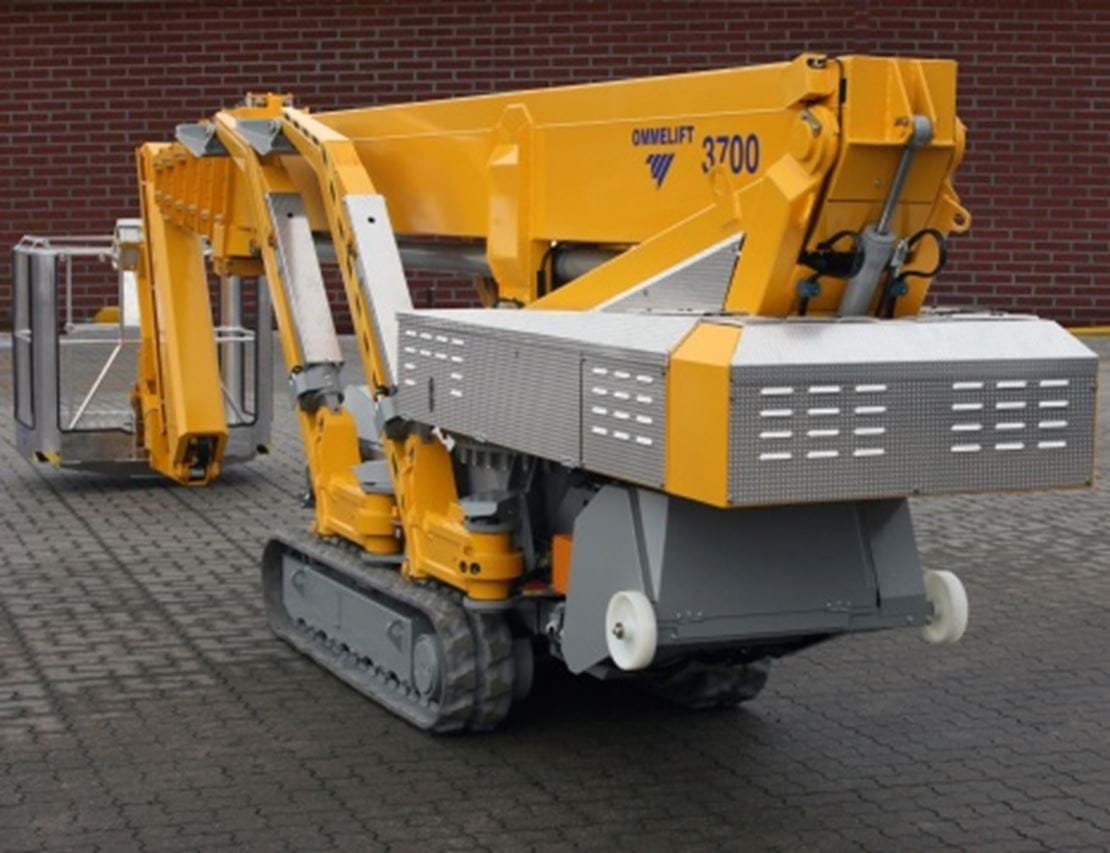 The new Omme Lift type 3700 RJ is a 37 m compact, telescopic platform with moveable jib and 180° basket turn, mounted on a fast moving crawler chassis.
The diesel and battery bi-energy power pack makes the lift equally efficient in outdoor as in indoor environments. At outdoor operation the diesel engine is the natural choice. When working indoor the electronic motors powered by 8 high capacity batteries are the motive force. No annoying and hazardous extension cables linked to mains are needed when travelling down the indoor lanes with an amazing speed and turning strength.
Time is always an important factor. The rapid 2-gear undercarriage is quickly in position and the boom system takes a 250 kg basket load to maximum height in less than 3 minutes. The outreach is limited through the load moment control system at approx. 14 m. The 130° fly-jib facilitates working up and over obstacles and the 180° basket turn enables operation in narrow and awkward places.
The new Omme Lift 3700 RJ is designed to traverse soft, muddy or hilly terrain but the crawler chassis is also dispersing the machine's weight of approx. 5200 kg widely when travelling on delicate surfaces like pavements, lawns, marble or similar. Generally in connection with applications where high and extensive reach is required but low weight a necessity.
The up to 40% set-up ability provides operation on levels where self-propelled booms are unfit to work due to too steep inclines. Or maybe the self-propelled booms are just too big and just too heavy to use in the environment.
Compact dimensions allow access into tight areas. The height is 1.98 m. The length is only 7.78 m and the detachable basket makes it possible to reduce the length even further. The 1.50 m width can be retracted hydraulically to only 1.10 m.
The official launch will be on the Bauma exhibition in Munich in April 2010, though orders have already been received from Australia, China, Germany, Holland and Hong Kong.
(Omme Lift stand F 1102/1)
Standard features include:
Bi-energy
Kubota diesel engine and 2 electronic motors powered by a 400 Ah battery pack.
(8 batteries in total)
Compact dimensions
Low!           Height 1.98 m
Short!         Length 7.78 m (7.23 m without basket)
Narrow!      Width 1.50 m but retractable to 1.10 m
Detachable basket
The length can be reduced to only 7.23 m if the basket is unhitched. Without the basket machine manoeuvrability is increased even further and e.g. takes up less space on the transport vehicle.
Large under basket clearance
In order to overcome obstacles during transit the jib and main boom can be raised to allow more than 2.50 m free clearance under the basket.
2-gear undercarriage
It is possible to increase the driving speed substantially by pressing "the turbo button" on the remote drive control box. This feature apply to both diesel and battery power.
Operational speed at maximum
From basket entry position to full height in less than 3 minutes.
Operational comfort
7 large telescopic steel boom sections provide solid comfort aloft.
250 kg basket load
The basket has sufficient capacity to carry men and gear.
Optional
Automatic jacking and take down.