Compact dimensions 

Quick and easy move to next assignment

Precise operation

Simple, intuitive controls

Great outreach
1700 EX is powered by an electric motor, connected to 230 V mains and is especially suitable where continuous operation is required.
1700 EXB is powered by a heavy duty battery pack, in total 24V/200 Ah/5h. Operation is possible independently of 230 V mains connection.
The low centre of gravity provides a secure transport after the towing vehicle.
The 1700 E platforms are mounted with hydraulic propulsion, turnable basket and hydraulic stabilizers. Hydraulic propulsion enables the platform to propel itself around the work site. Operation from a special platform, giving a complete overview. The turnable basket makes it possible for 2 persons to operate parallel with e.g. a facade.
The 1700 E platforms are equipped with an unfolding scissor system, giving the lift an increased up and over outreach over high obstacles. When operating the scissor system up and down the basket will follow a vertical line. Furthermore the lift has no tail swing at rotation. Electric wiring to the basket is protected inside the telescopic boom. The telescopic cylinder is protected under the boom.
The 1700 E platforms are fitted with straightforward control, in the basket and at ground level. The hydraulic levers for the stabilizers are placed centrally on the chassis. The proportional controls ensure steady and smooth movements. The basket load of 200 kg applies in the complete working envelope.
Contact form
In order to respond to your request we need your contact information. Please complete the fields below. 
1.25 x 0.8 x 1.1 m
4'1" x 2'6" x 3'8"
24V / 200Ah / 5h
24V / 200Ah / 5h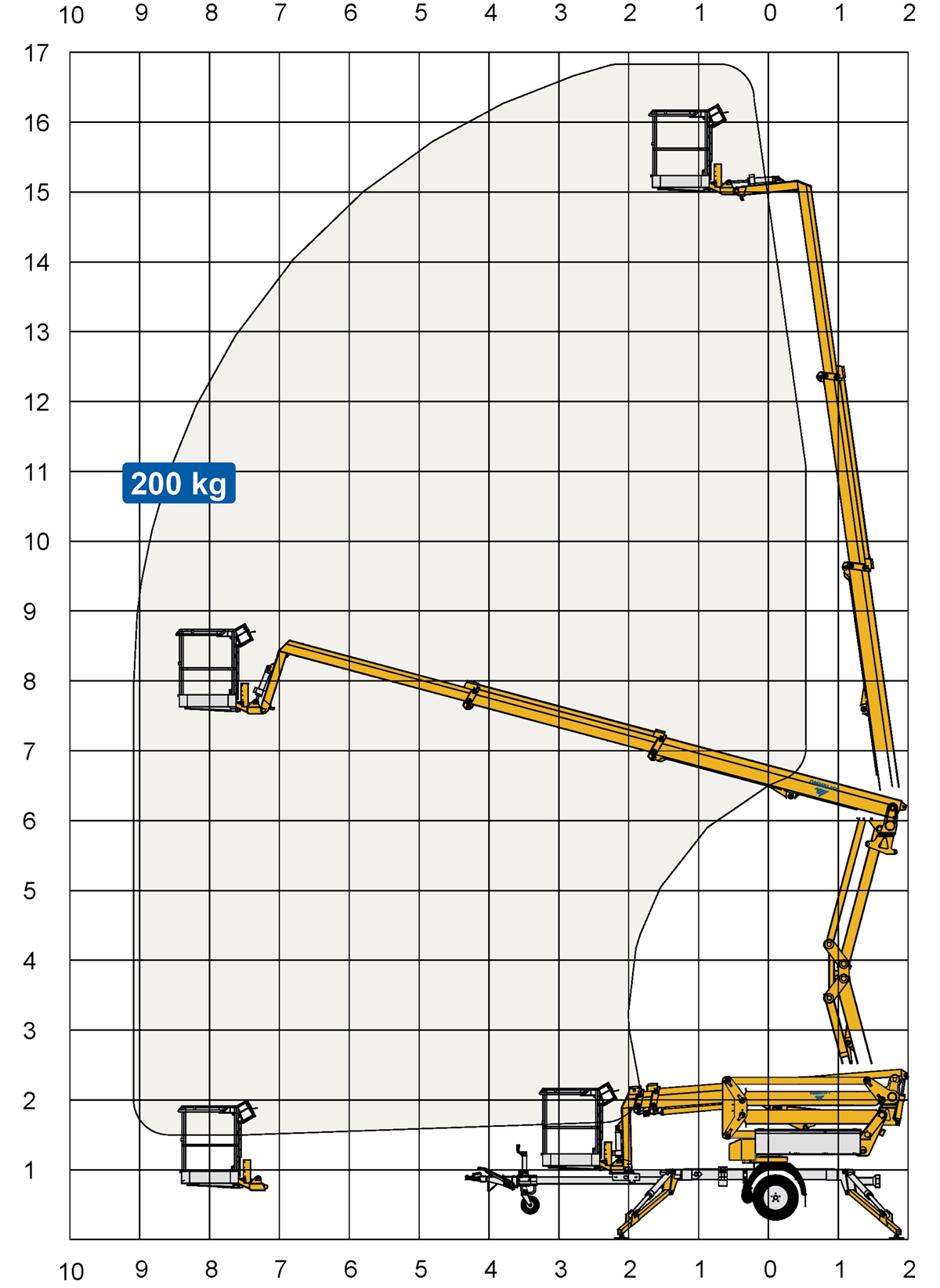 Brochure download
Danish

Dutch

English Metric

Finnish

French

German

Polish
Australia - Monitor Industries Pty Ltd

Austria - SAHALIFT GmbH

Belgium - Heli NV

Canada - Tracked Lifts LLC

China - Beijing Xinyazhong Co. Ltd

Czech Republic - STATECH s.r.o.

Denmark - OMMELIFT A/S

Estonia - Liftest OÜ

Finland - Talhu Oy

France - All Road

Germany - Sahalift GmbH

Hong Kong - Avion Access Company Limited

Indonesia - PT MHE-Demag Indonesia

Iraq - DIB - Deutsch-Irakisches Büro

Kingdom of Bahrain - Gulf Equipment & Technology

Kuwait - Gulf Group Co.

Malaysia - MHE-Demag Malaysia Sdn Bhd

Netherlands - Kors Hoogwerksystemen BV

Norway - Liftgruppen AS

Nouvelle-Calédonie - CIPAC Industries

Oman - Teejan Equipment LLC

Pakistan - KK Power

Philippines - MHE-Demag (P) Inc.

Poland - Windex

Portugal - Transporel, LDA.

Qatar - Q-FAB

Saudi Arabia - MASA Equipment Company

Singapore - MHE-Demag (S) Pte Ltd

Slovakia - mateco Slovakia s.r.o.

Slovenia - MHM d.o.o.

Sweden - Liftgruppen AB

Switzerland - Sahalift GmbH

Taiwan - MHE-Demag Taiwan Company Limited

Thailand - MHE-Demag (T) Ltd

Turkey - Acarlar Dis Ticaret Ve Makina Sanayi A.S.

UAE - Al Laith International

USA - Tracked Lifts LLC

Vietnam - MHE-Demag Vietnam Company Ltd

Other
Hydraulic Engagement of Traction Rollers

Heavy-duty Front Wheel

Safety indicators

Up and Over Angle Boom

The up and over angle boom (length 2.00 m (ft 6'6") including basket) enhances versatility when working up and over roof edges or other difficult to reach areas.

Flush Basket Mount

No bulky fixture underneath the basket which can inflict damage on buildings/rooftops or interior decoration

Telescopic Sections on Rollers

No slide pad friction in telescopic movements. Same operation speed with full basket load in all positions. Brushes on entrances prevent sprigs, twigs or other fragments to enter sections

Large and Grease Free Steel Boom Sections

Grease-free sections minimize build-up of sawdust, dirt or similar between sections giving increased reliability and reduced maintenance

Telescopic Boom Cylinder Situated Underneath Main Boom

The telescopic cylinder is protected under the boom and not exposed on top hence not subject to impact of falling objects and damage from collision

Tool Trays in Basket

Power Outlet in Basket

Hatch for easy cleaning
Drive with Radio Control from ground

O4b The lift can be equipped with Drive with Radio Control from ground making the operation of the lift easier and more precise and user-friendly. Driving with radio control the user can move around the lift when driving it, making it possible to spot potential obstacles.

Double Charger System with Boost Effect (230V only)

O10 When connected to 230V mains, the 2-charger system provides unlimited lift operation and re-charge of battery pack simultaneously.

Boost effect: boosts output and gives powerful assistance to lift operation and battery re-charge.

A second charger can be fitted on most existing units.

 

Petrol engine with oil pump

O12(e,f) The lift can be equipped with a petrol engine for alternative continuous operation. On specific engine types start and stop of the engine can also take place from the basket.

Diesel engine with oil pump

O12(g,h) The lift can be equipped with a diesel engine for alternative continuous operation. On specific engine types start and stop of the engine can also take place from the basket.

Special Colour RAL

O22 For an additional price the lift can according to agreement be painted in other RAL-colours.

Holder for nose wheel

O24 The lift is supplied with a heavy nose wheel to be used during operation with the propulsion. With the holder there is a fixed place for the nose wheel when the lift being pulled after the vehicle.

Big and Robust, Integrated Nose Wheel

O24b The size of the integrated robust and compact nose wheel makes driving the propulsion of the lift easier, securing more precise drive through narrow passages and around obstacles. In addition, the wheel will be better suited to drive on soft and loose grounds.

Plates for stabilizers

O29 For lift set up on soft ground OMMELIFT offers 4 pcs. supporting rubber plates. Holders for placing the plates on the lift follow together with the plates. The dimensions of the plates are 400x400 mm

Flashing Beacons on Stabilizers

O39 The lift can be supplied with flash lights on the four stabilizers. If further warning is requested, a flash light can also be mounted on the rear edge of the telescopic boom.

Battery discharge indicator and time counter on electric motor

O57 Battery discharge indicator and hour meter on elec. motor