Compact dimensions

High and extensive reach

Low weight
The diesel and battery hybrid power pack makes the lift equally efficient in outdoor as in indoor environments.
At outdoor operation the diesel engine is the natural choice. When working indoor the electronic motors powered by 8 high capacity batteries are the motive force. No annoying and hazardous extension cords connected to mains are needed when travelling inside e.g. atriums. The rapid 2-gear undercarriage is quickly in position with an amazing speed and turning strength.
The Omme Lift 4200 RBDJ is designed to traverse hilly terrain but the crawler chassis is also dispersing the machine's weight of only 6900 kg (15,212 lbs) widely when travelling on delicate surfaces like pavements, lawns, marble or similar. Generally in connection with applications where high and extensive reach is required but low weight a necessity.
The up to 27% set-up ability provides operation on levels where self-propelled booms are unfit to work due to too steep inclines. Or maybe a 40m (ft 131') self-propelled boom weighing 20.000kg (44,000 lbs) is just too big and heavy to use.
Compact dimensions allow access into tight areas. The height is 1.99 m (ft 6'6''). The length is 8.90 m (ft 29'2'') and the detachable basket makes it possible to reduce the length even further. A width of 1.75 m (ft 5'8'') can be retracted hydraulically to only 1.35 m (ft 4'5'').
Contact form
In order to respond to your request we need your contact information. Please complete the fields below. 
1.25 x 0.8 x 1.1 m
4'1" x 2'6" x 3'8"
1.25 x 0.8 x 1.1 m
4'1" x 2'6" x 3'8"
8.93 / 8.33 m
29'3" / 27'4"
8.93 / 8.33 m
29'3" / 27'4"
1.75 / 1.35 m
5'8" - 4'5"
1.75 / 1.35 m
5'8" - 4'5"
5.33 / 4.53 m
17'5" /14'1"
5.33 / 4.53 m
17'5" /14'1"
24 V / 400 Ah / 5h
24 V / 400 Ah / 5h
24 V / 400 Ah / 5h
24 V / 400 Ah / 5h
14 kW / 18.8 hk
14 kW / 18.8 hk
Gradeability, max. across slope up to
Gradeability, max. up and down slope
Deployment ability on slopes up to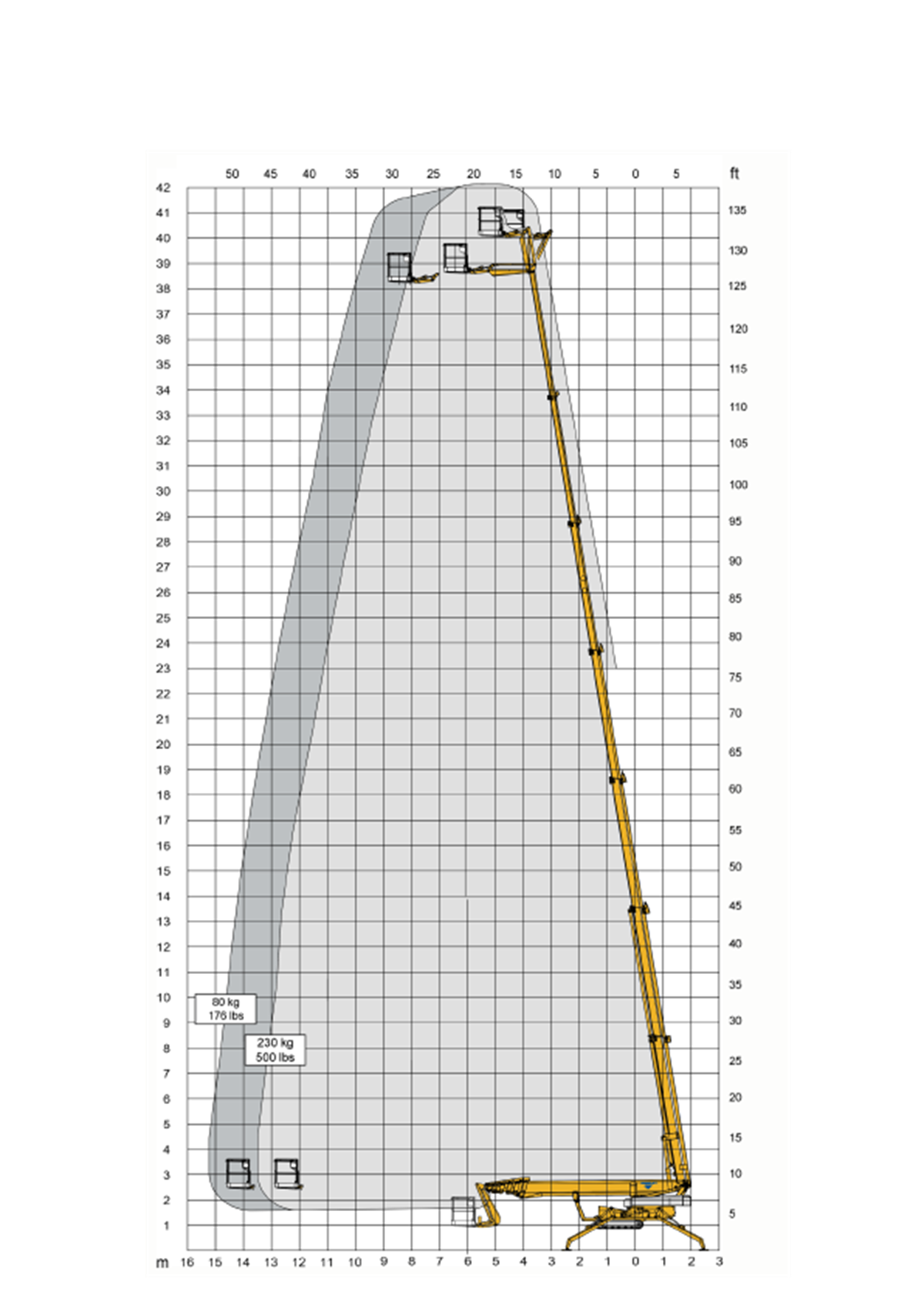 Brochure download
Danish

Dutch

English Imperial

English Metric

Finnish

French

German

Polish
Australia - Monitor Industries Pty Ltd

Austria - SAHALIFT GmbH

Belgium - Heli NV

Canada - Tracked Lifts LLC

China - Beijing Xinyazhong Co. Ltd

Czech Republic - STATECH s.r.o.

Denmark - OMMELIFT A/S

Estonia - Liftest OÜ

Finland - Talhu Oy

France - All Road

Germany - Sahalift GmbH

Hong Kong - Avion Access Company Limited

Indonesia - PT MHE-Demag Indonesia

Iraq - DIB - Deutsch-Irakisches Büro

Kingdom of Bahrain - Gulf Equipment & Technology

Kuwait - Gulf Group Co.

Netherlands - Kors Hoogwerksystemen BV

Norge - Aadalen Truck AS

Nouvelle-Calédonie - CIPAC Industries

Oman - Teejan Equipment LLC

Pakistan - KK Power

Poland - Windex

Portugal - Transporel, LDA.

Qatar - Q-FAB

Saudi Arabia - MASA Equipment Company

Slovakia - mateco Slovakia s.r.o.

Slovenia - MHM d.o.o.

Sverige - A.Ådalen AB

Switzerland - Sahalift GmbH

Turkey - Acarlar Dis Ticaret Ve Makina Sanayi A.S.

UAE - Al Laith International

USA - Tracked Lifts LLC

Other
Battery/Diesel Hybrid Power

Travel long distances on engine power and use battery power indoor or where quiet or no fumes operation is required. Optimum versatility and unrestricted operating periods with a true hybrid system. Battery power eliminates the well-known 'voltage drop' issue, which can significantly impede the operation of a mains-powered machine. Battery power provides faster lift operation and self-drive without inconvenient trailing connection to mains. Moreover, power cuts or local voltage fluctuations do not have an influence on a battery powered lift performance

The True Hybrid System (not bi-energy only)

A true hybrid means optimal power source utilization. The batteries are automatically re-charged when the engine is on. Engine stop accommodates automatic change from engine to battery power and vice versa. Furthermore, continuous recharge of the battery pack is also possible with an on-board charger during lift operation. The charger does not disconnect when the lift is in use ((Double battery capacity 2x(4x6V) 400Ah/5h) included)

The Stick Boom Advantage

The telescopic boom is ideal for indoor use in malls or the like as there is no knuckle hence tail-swing to inflict damage on decor, lighting, information boards etc., typically hanging inside a shopping centre or an atrium. It is also perfect for maintenance jobs on building's facades in city centres which many times have a similar environment. The straight stick can hit the job directly and exempts the operator from being uneasy when rotating the lift

Stabilizer Indicators Inform Safe Set-up

Sensors on stabilizers and pal locks with separate L.E.D indicators and an audible alarm provide safe deployment.

Ability to Lift the Boom and the Jib While Travelling

This allows the operator to clear obstacles when driving and make a clean approach to an uphill/downhill slope without grounding

Flush mounted basket on jib

No bulky fixture underneath the basket which can inflict damage on buildings/rooftops or interior decoration

Detachable Basket with Casters

Cuts overall length and increases transit compactness. Casters on basket for easy handling.

Telescopic Sections on Rollers

No slide pad friction in telescopic movements. Same operation speed with full basket load in all positions. Brushes on entrances prevent sprigs, twigs or other fragments to enter sections

Large and Grease Free Steel Boom Sections

Grease-free sections minimize build-up of sawdust, dirt or similar between sections giving increased reliability and reduced maintenance

Telescopic Boom Cylinder Situated Underneath Main Boom

The telescopic cylinder is protected under the boom and not exposed on top hence not subject to impact of falling objects and damage from collision

Permanently Fixed, Large Bearing-Area Stabilizer Foot Plates

For fast, safe set-up and extra stability even when separate spreader pads are not utilized

Sliding Hinged with Purpose Designed Anti-Scratch Boards

Reduces friction on vulnerable surfaces and furnishes a smooth set-up on e.g. marble or similar

Robustly Built

Extensively Shielded

Tool Trays in Basket

Power Outlet in Basket

Hatch for easy cleaning
Double Charger System with Boost Effect (230V only)

O10 When connected to 230V mains, the 2-charger system provides unlimited lift operation and re-charge of battery pack simultaneously.

Boost effect: boosts output and gives powerful assistance to lift operation and battery re-charge.

A second charger can be fitted on most existing units.

 

1-man basket

O13(b,c) To work in tree canopies and confined spaces.

Special Colour RAL

O22 For an additional price the lift can according to agreement be painted in other RAL-colours.

Flashing Beacons on Stabilizers

O39 The lift can be supplied with flash lights on the four stabilizers. If further warning is requested, a flash light can also be mounted on the rear edge of the telescopic boom.

Battery discharge indicator and time counter on electric motor

O57 Battery discharge indicator and hour meter on elec. motor