Insulated tracked platform Category C 46kV
ANSI A92.2 compliant
3 boom insulation areas
Robust and powerful
Heavy duty shield package
Simultaneous boom functions

The insulated tracked platform 2650 iRX Category C 46kV, is designed for working close to power lines. All booms are insulated with Waco fibre glass sections which enables safe and manoeuvrable work. Type 2650 iRX is ANSI A92.2 compliant.
Industry Leader

The insulated tracked platform has a working height of 26.5m (ft. 86") and an unrestricted outreach of 12.2m (ft. 40'1"). A dual parallelogram articulating riser gives 13m (ft. 42'7") up-and-over free clearance and provides vertical wall tracking. With the telescopic sections on rollers there is no slide pad friction in telescopic movements, which ensures same operation speed with full basket load in all positions. In addition, the basket rotates 180°giving greater access during jobs.
True Hybrid
The 2650 iRX standard version is a true diesel/battery hybrid with engine generated re-charge of the battery pack. Battery power means no noise and no fumes.
Robust and powerful
The OMMELIFT 2650 iRX-46kV has a powerful off-road driving capability and a heavy-duty shield package. The stabilizers allow the machine to be set-up on uneven levels up to 40% (21.8°). Simple and intuitive, multi-function lift operation from the radio controller make operator instruction easy and work quicker.
Safe work close to power lines
The insulated 2650 iRX is a tracked platform specifically designed and build to meet the needs of professionals in the Tree Work business, who has to work safely in close distance to power lines.
Contact form
In order to respond to your request we need your contact information. Please complete the fields below. 
0.80 x 0.65 m
2'7" x 2'2"
0.80 x 0.65 m
2'7" x 2'2"
0.80 x 0.65 m
2'7" x 2'2"
5.32 / 4.59 m
17'5" / 15'1"
5.32 / 4.59 m
17'5" / 15'1"
5.32 / 4.59 m
17'5" / 15'1"
24 V 400 Ah/5h
24 V 400 Ah/5h
24 V 200 Ah/5h
24 V 200 Ah/5h
18.5kW/24.8hp
18.5kW/24.8hp
18.5kW/24.8hp
18.5kW/24.8hp
Gradeability, max. across slope up to
Gradeability, max. up and down slope
Deployment ability on slopes up to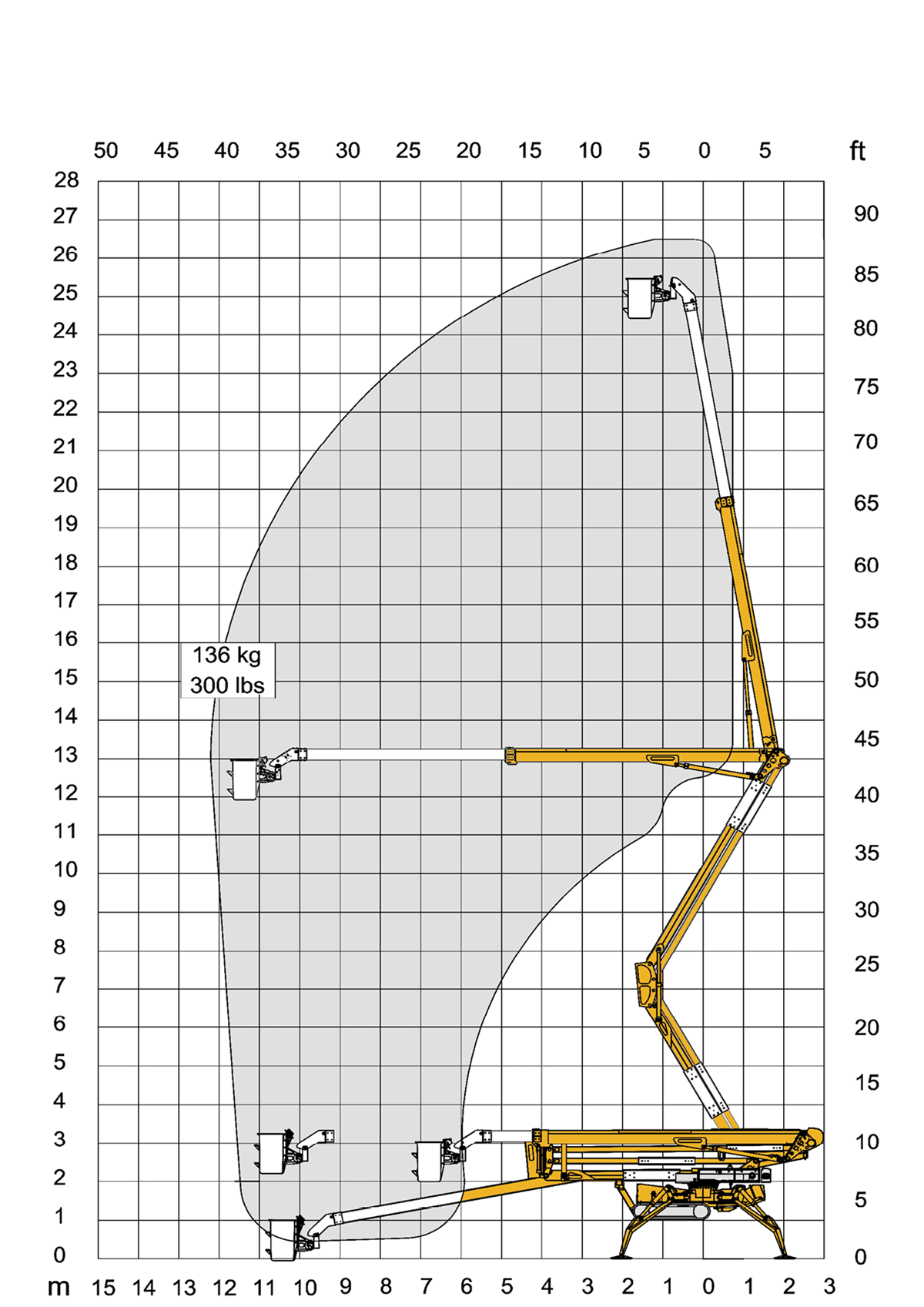 Brochure download
Danish

English Imperial

English Metric

German

Polish
Australia - Monitor Industries Pty Ltd

Austria - SAHALIFT GmbH

Belgium - Heli NV

Canada - Tracked Lifts LLC

China - Beijing Xinyazhong Co. Ltd

Czech Republic - STATECH s.r.o.

Denmark - OMMELIFT A/S

Estonia - Liftest OÜ

Finland - Talhu Oy

France - All Road

Germany - Sahalift GmbH

Hong Kong - Avion Access Company Limited

Indonesia - PT MHE-Demag Indonesia

Iraq - DIB - Deutsch-Irakisches Büro

Kingdom of Bahrain - Gulf Equipment & Technology

Kuwait - Gulf Group Co.

Malaysia - MHE-Demag Malaysia Sdn Bhd

Netherlands - Kors Hoogwerksystemen BV

Norway - Liftgruppen AS

Nouvelle-Calédonie - CIPAC Industries

Oman - Teejan Equipment LLC

Pakistan - KK Power

Philippines - MHE-Demag (P) Inc.

Poland - Windex

Portugal - Transporel, LDA.

Qatar - Q-FAB

Saudi Arabia - MASA Equipment Company

Singapore - MHE-Demag (S) Pte Ltd

Slovakia - mateco Slovakia s.r.o.

Slovenia - MHM d.o.o.

Sweden - Liftgruppen AB

Switzerland - Sahalift GmbH

Taiwan - MHE-Demag Taiwan Company Limited

Thailand - MHE-Demag (T) Ltd

Turkey - Acarlar Dis Ticaret Ve Makina Sanayi A.S.

UAE - Al Laith International

USA - Tracked Lifts LLC

Vietnam - MHE-Demag Vietnam Company Ltd

Other
ANSI/SAIA A92.2 Compliant

Battery/Diesel Hybrid Power

Travel long distances on engine power and use battery power indoor or where quiet or no fumes operation is required. Optimum versatility and unrestricted operating periods with a true hybrid system. Battery power eliminates the well-known 'voltage drop' issue, which can significantly impede the operation of a mains-powered machine. Battery power provides faster lift operation and self-drive without inconvenient trailing connection to mains. Moreover, power cuts or local voltage fluctuations do not have an influence on a battery powered lift performance

The True Hybrid System (not bi-energy only)

A true hybrid means optimal power source utilization. The batteries are automatically re-charged when the engine is on. Engine stop accommodates automatic change from engine to battery power and vice versa. Furthermore, continuous recharge of the battery pack is also possible with an on-board charger during lift operation. The charger does not disconnect when the lift is in use

Stabilizer Indicators Inform Safe Set-up

Sensors on stabilizers and pal locks with separate L.E.D indicators and an audible alarm provide safe deployment.

3 Boom Insulated Areas

Powerful Off-Road Driving Capability

Clean Approach

Variable Width Undercarriage

Variable Outrigger Positions

Permanently Fixed, Large Bearing-Area Stabilizer Foot Plates

For fast, safe set-up and extra stability even when separate spreader pads are not utilized

Easy Basket Access

2 x 90° Basket Rotation

Hydraulic Circuit for Saw Hookup

Extensive Horizontal Reach

The articulating riser gives more than 13 m (ft 42'7'') up-and-over free clearance with an up to 12.2 m (ft 40'1'') side reach.

Robustly Built

Heavy Duty Shield Package
Wireless Drive

042 The lift can be equipped with Wireless Drive

Wireless Drive and Automatic Levelling

O45b Wireless Drive with automatic levelling.

Flashing Beacons on Stabilizers

O39 The lift can be supplied with flash lights on the four stabilizers. If further warning is requested, a flash light can also be mounted on the rear edge of the telescopic boom.

Battery discharge indicator and time counter on electric motor

O57 Battery discharge indicator and hour meter on elec. motor

Special Colour RAL

O22 For an additional price the lift can according to agreement be painted in other RAL-colours.